"I can tell by the video that you are an outstanding teacher. The passion you have for your art and your willingness to share it with other is abundantly clear. Your dancing is beautiful."
—A. Parshall, Ballet Instructor

Preview Introduction to Raqs Sharqi (Belly Dance)
"One of the best things that you do is gradual steps. It's wonderful the way you teach. You listen to the students as you teach. That's one of the most important things a teacher needs to do, and you do it superbly well." 
—David J. Gonzol, PhD
Director of Music Education, Shepherd University

Bringing World Dance to students.
Introduction to Raqs Sharqi (Belly Dance in Arabic) is an online course in the fundamentals of this Middle Eastern dance, its cultural implications, and its significance in the world dance genre.
Modeled on our live, in-person arts residency program in schools and colleges, this virtual residency is for
Class/studio setting
Remote learners
Hybrid learners
Homeschool students
Pandemic pods
Micro schools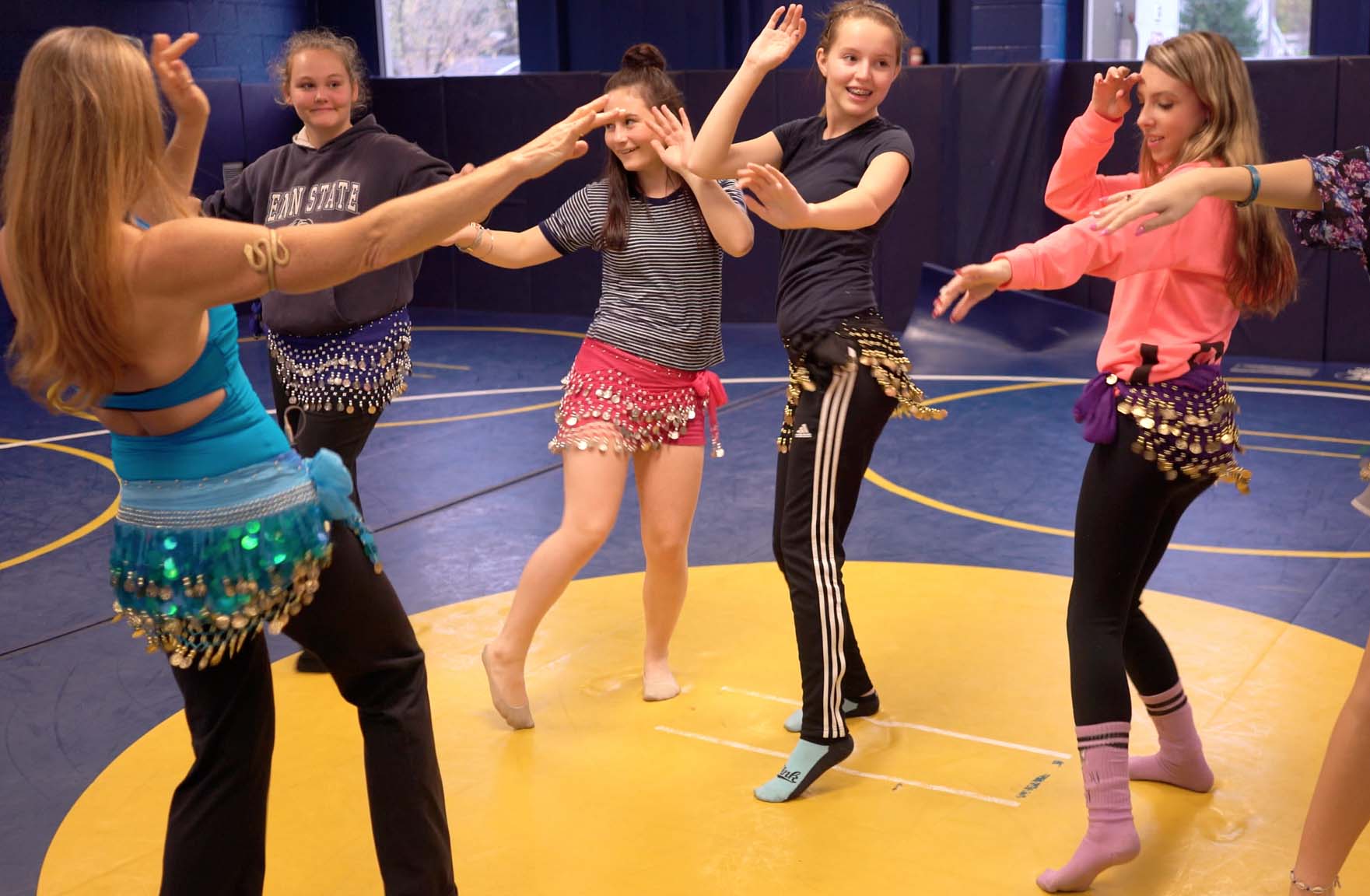 "It was easy for beginners to follow; it was challenging enough for the advanced dancers; it was a beautiful experience of improvisation." 
—Laurie Goux, Adjunct Dance Professor
Davis & Elkins College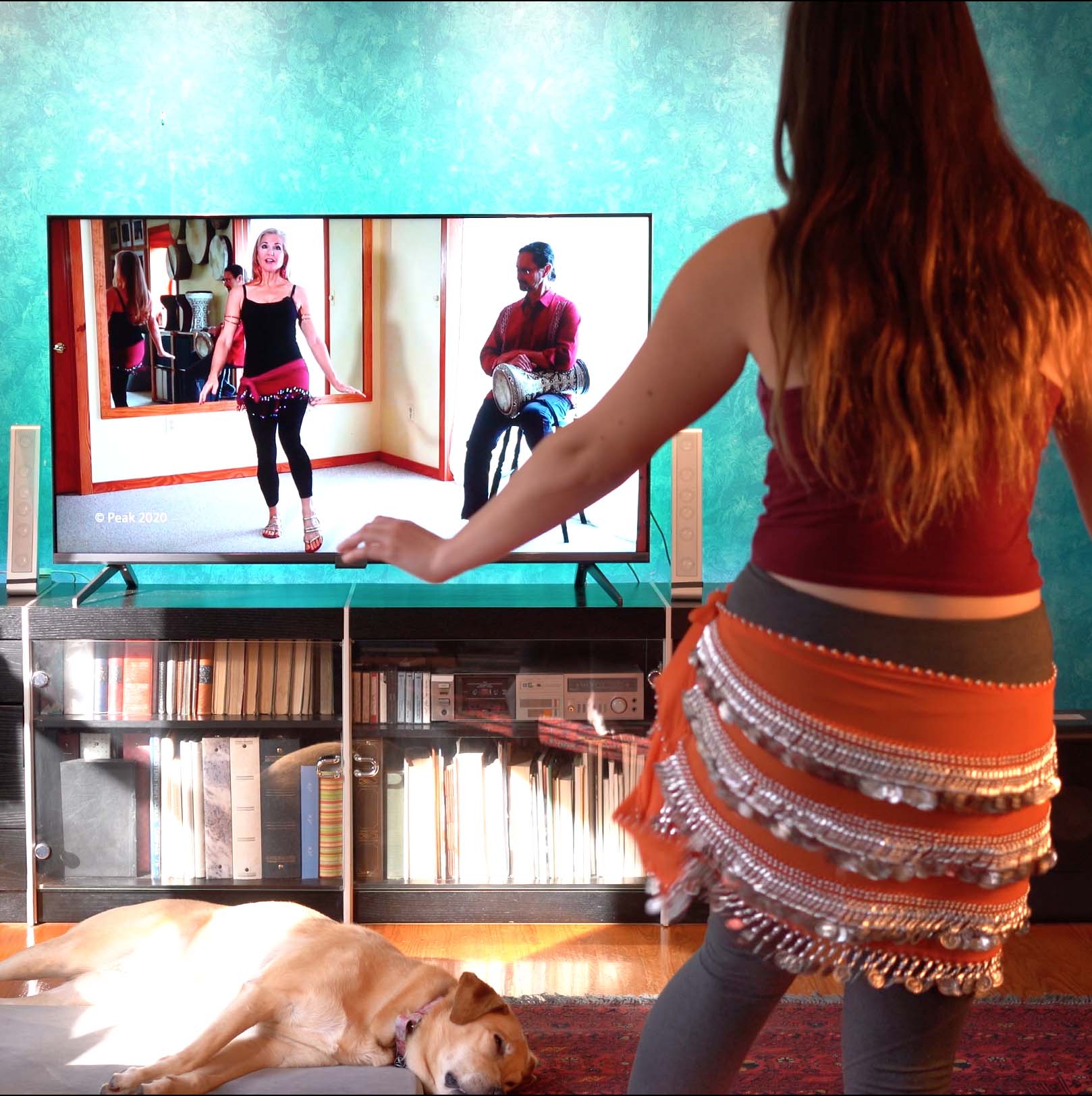 Students learn belly dance traditionally.
With Bob's live DRUMMING accompanying each of Jensuya's lessons and practice session, students learn to:
Identify the beat, tempo, rhythm
Time moves with the beat
Embody the classic raqs sharqi rhythm Beledi
Master the fundamental raqs sharqi step and 3 variations
Dance 2 classic raqs sharqi moves and 2 variations
Acquire raqs sharqi isolation technique
Choreograph steps & moves
Speak key Arabic & Turkish words
Develop a personal practice schedule
"I think the students sense that this is not information being regurgitated to them...that [Jen & Bob] have actually been there and done that!"
—Holli McCumbee, Dance Instructor
Berkeley Springs High School

It's easy to administer remotely with our Course Guide.
Especially helpful for remote students, we provide suggestions, tips, and guidelines for setting up and getting the most from the course for students learning outside the class studio.
Setting your dance space
What to wear for your lessons
How to customize your lesson schedule
Super tips for class success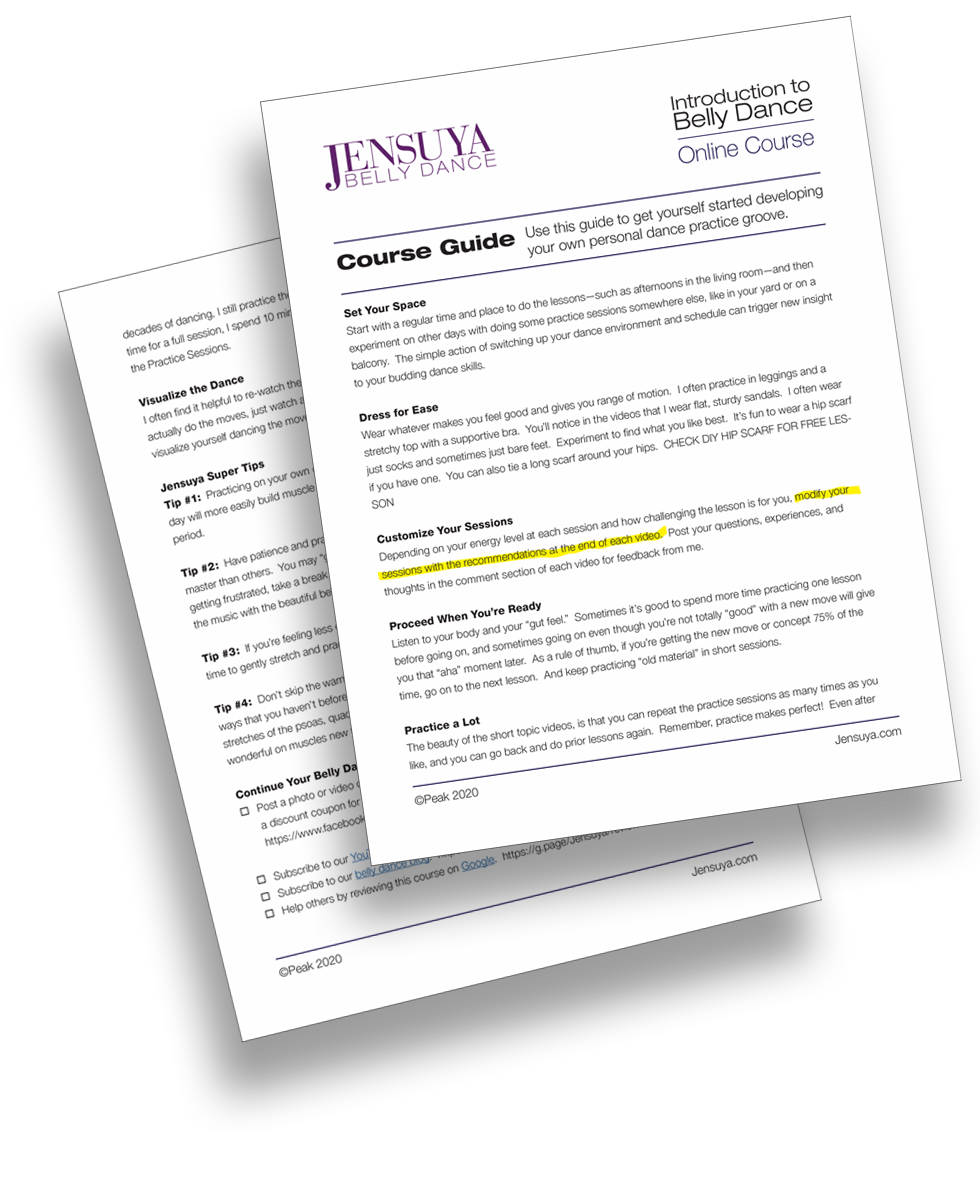 "All the interconnection of the music, the dance, the cultural with the historical aspect, the language—I think that's wonderful. You're really immersing them in the culture...I love that it's so out of our comfort zone—the kids have really taken to it."
—Andrea Masciocchi, Dance Instructor
Barbara lngram School for the Arts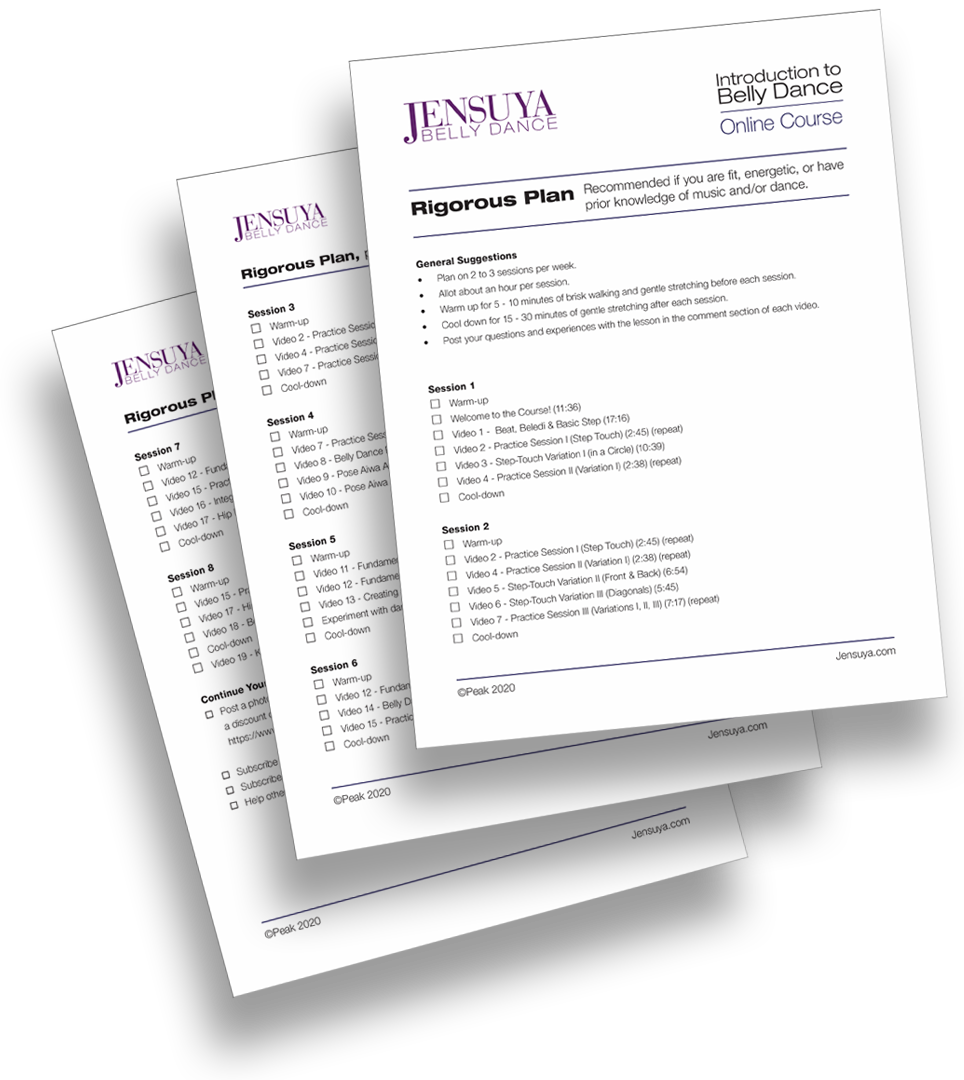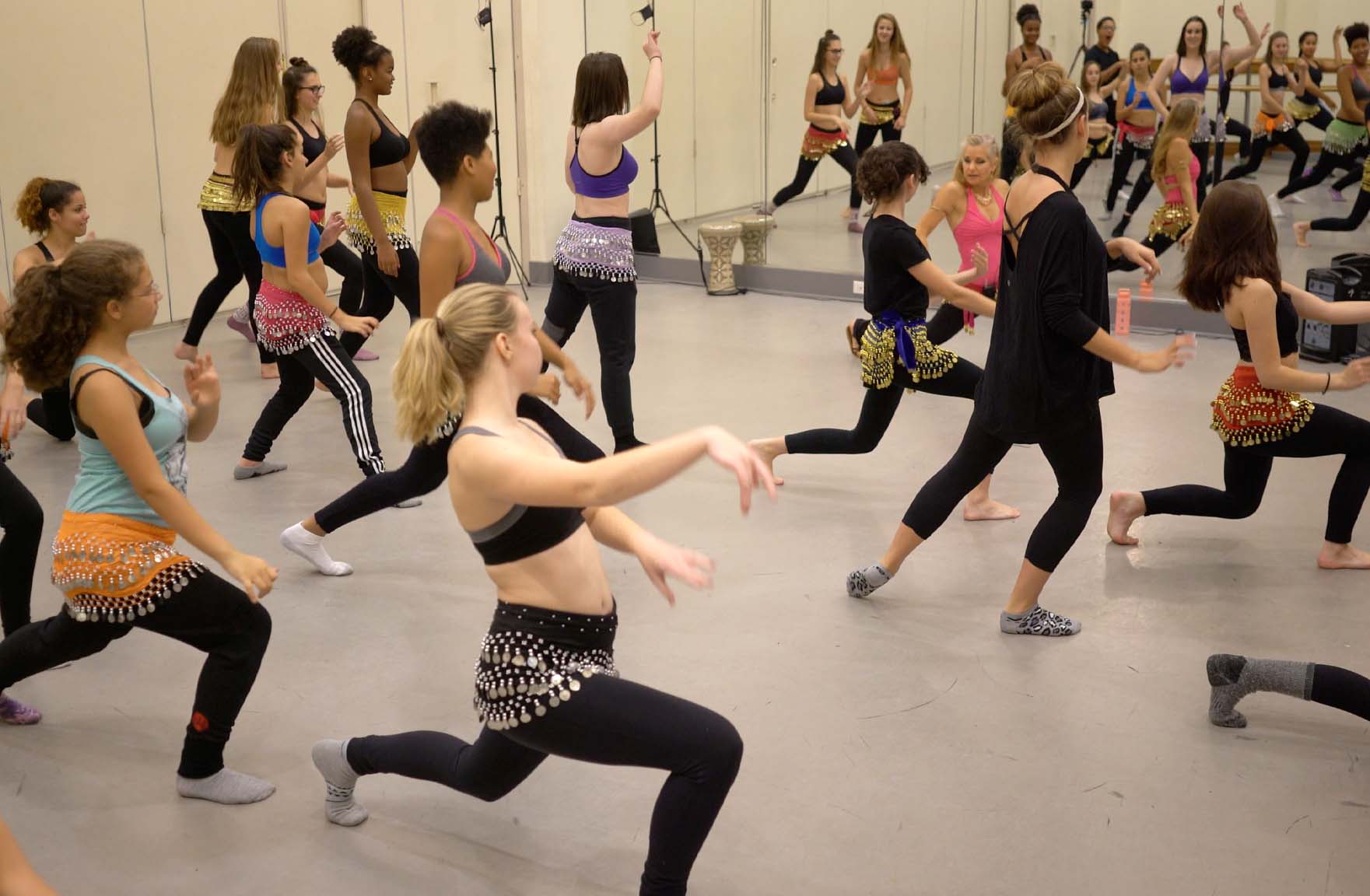 Follow the Rigorous Plan to learn in 8 sessions.


"I don't know much about the Middle East...so learning the culture was fun for me. I had a lot of fun with the drum rhythm!"
—Hayley R., High School Senior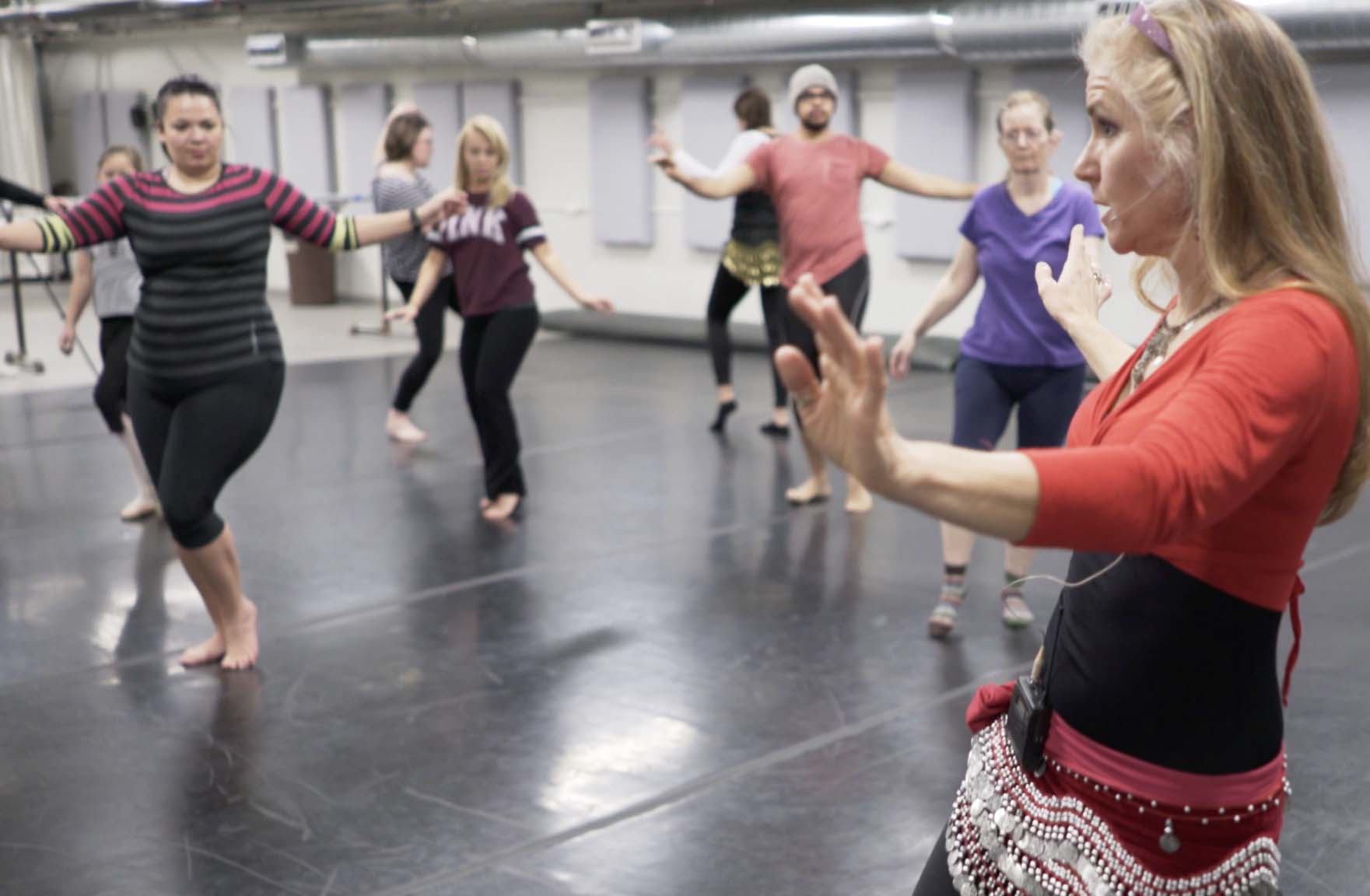 Follow the Gentle Plan to learn in 12 sessions.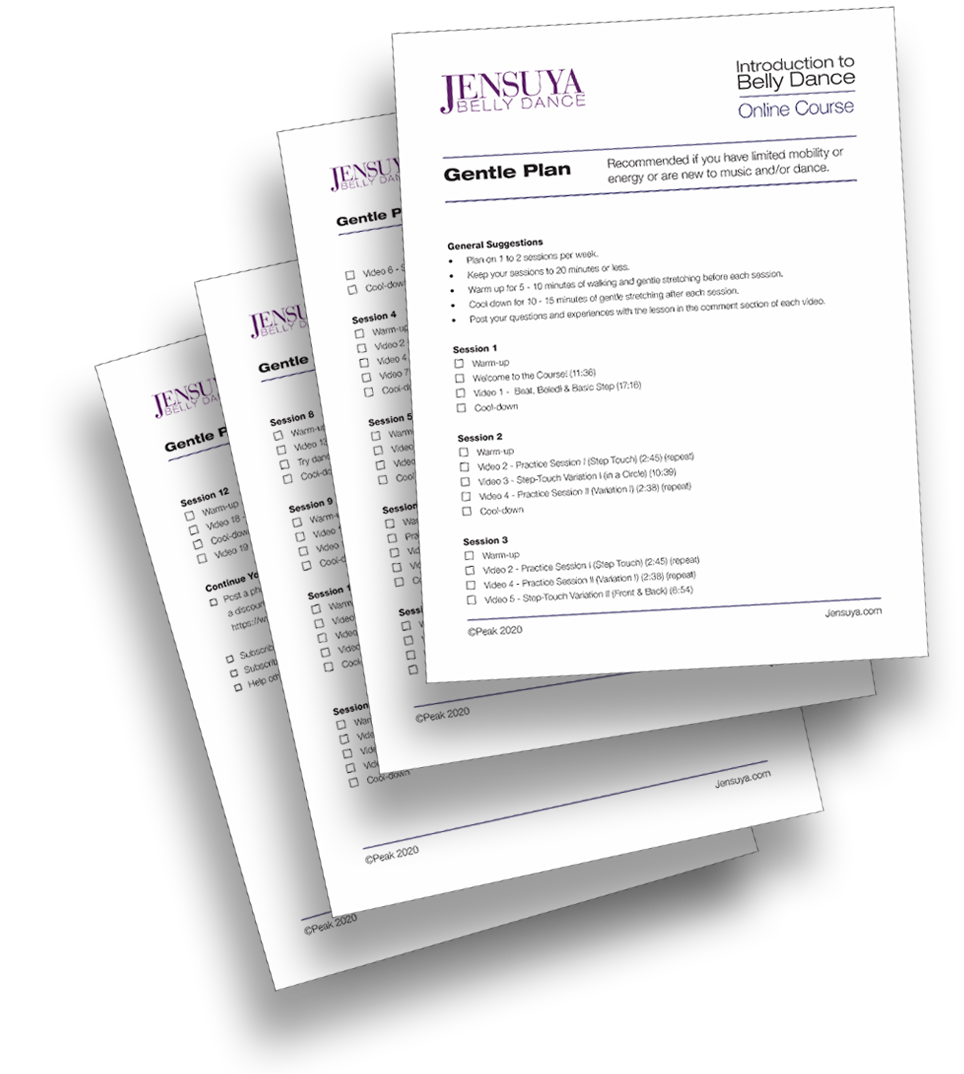 Our unique format of separate videos for the technique lessons and practice sessions let students progress at exactly the perfect rate.
Technique lesson videos
Practice session videos
Directions at the end of each video suggest how individual students should modify the next session depending on how challenging the lesson was.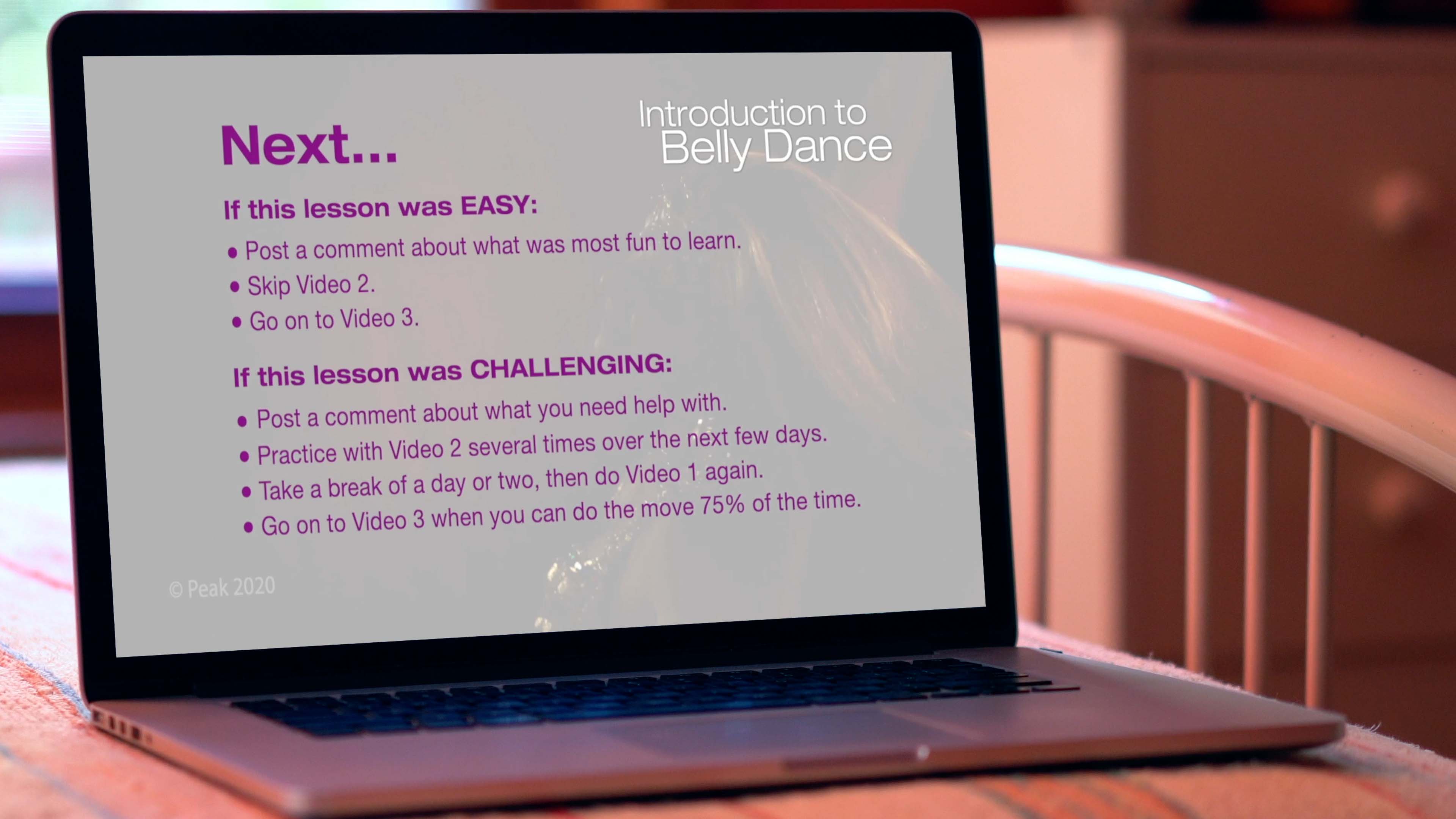 "My students really enjoyed the way the program allowed them to move quickly when they understood a skill and to have plenty of practice when they were having trouble with a skill."
—Holli McCumbee, Dance Instructor
Berkeley Springs High School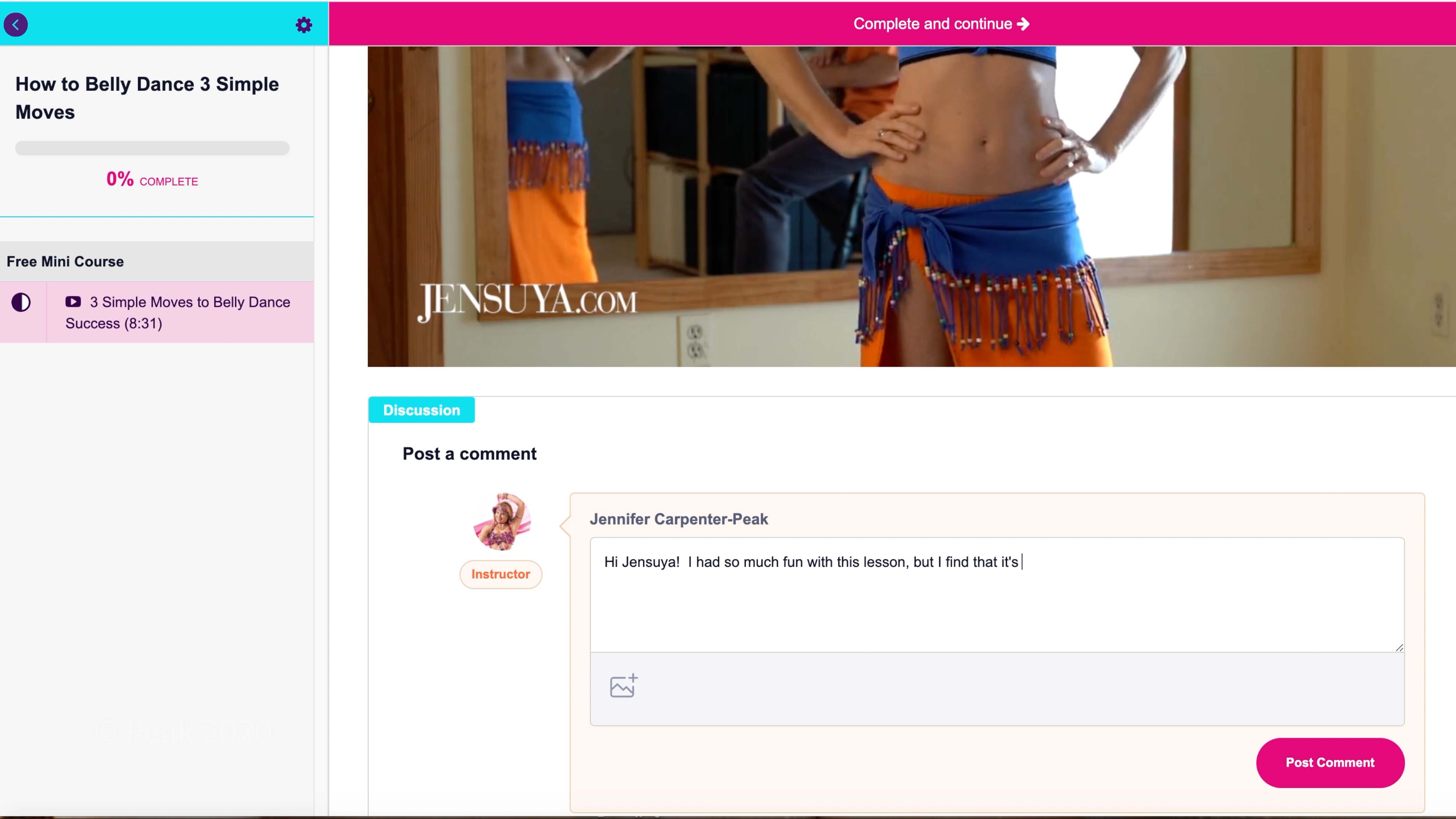 Connect with us virtually.
Whether the student is at home or in the classroom, we're together virtually!
Students can ask us questions and share experiences with other students in the comments section of each video.
Remote-learning & hybrid-learning.
With 3month access, we give teachers and professors the flexibility to adapt with ease the virtual residency to each teaching situation, even when switching back and forth from in class to remote learning.
Students can choose the device.
Smart TV
Computer
Tablet
Smart phone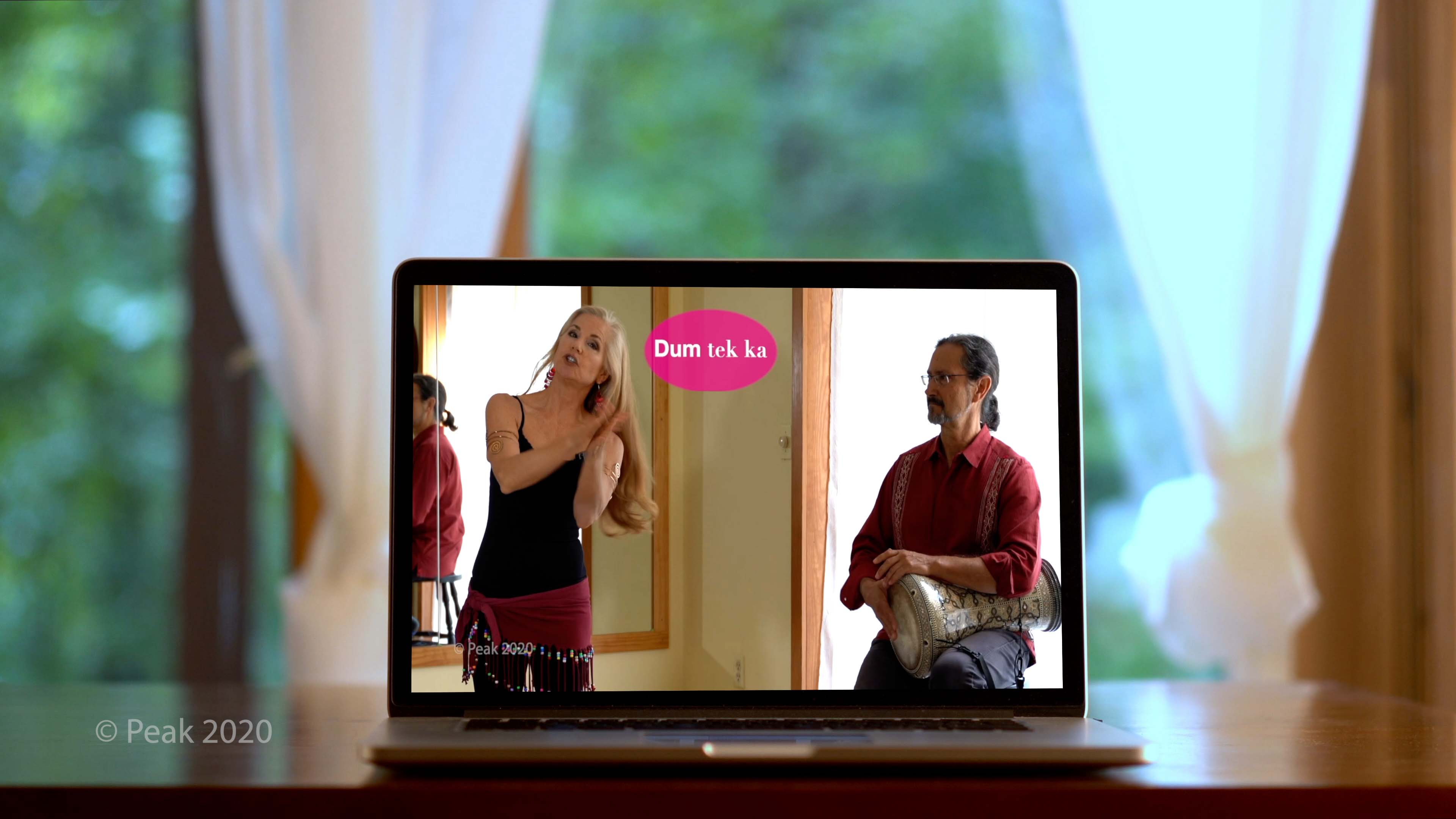 Introduction to Raqs Sharqi (Belly Dance) Curriculum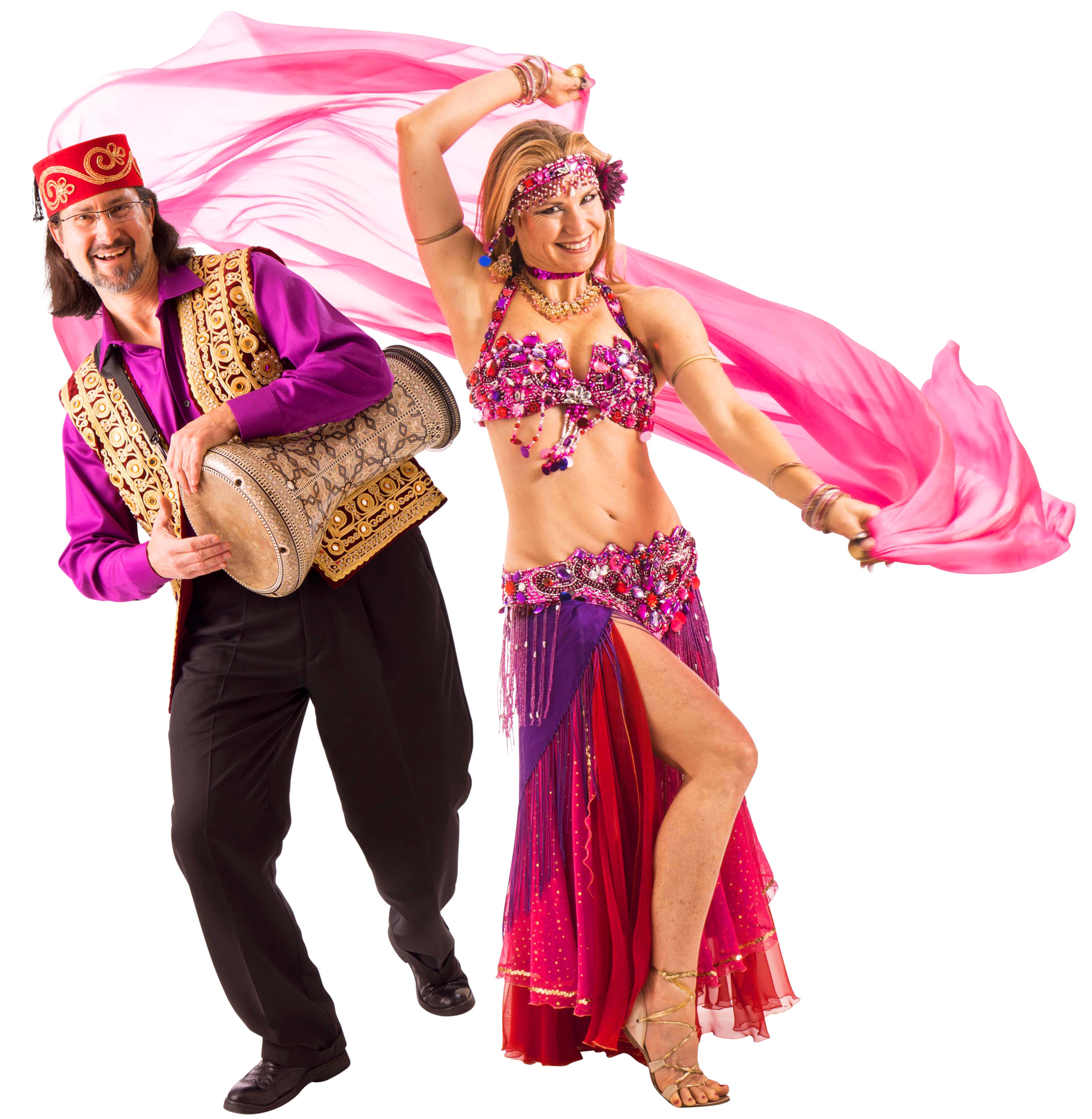 Dance. Understand. Rejoice.
Merhaba!
I'm dancer/engineer Jensuya—aka Jennifer Carpenter-Peak—and along with my Significant Drummer—aka my husband, Robert Peak—we perform live music and belly dance shows, teach belly dance workshops and online courses, conduct in-person and online Middle Eastern arts education programs in schools and colleges, and produce two YouTube channels and blog—all about Mid East music, dance, and culture.
Hailing from Berkeley Springs, West Virginia, we have been featured by the American-Arab Anti-Discrimination Committee, the American Turkish Association, and twice by the U.S. Government-funded Middle East Broadcasting Networks, an Arabic-language news organization with a weekly audience of more than 25.7 million people in 22 countries in the Middle East and North Africa. If there were only one thing that I could teach you, show you, inspire you to do, it would be this—embrace your fear, then dance with it. Let's get started!