"...what I loved most about the first course was [Jensuya's] clear and consise way of giving us the information. Her teaching style and positive attitude make you want to learn more. I will definitely be taking more classes..." —Gregg R.
Preview Introduction to Belly Dance
"After seeing you teach touch-step on YouTube I couldn't resist the opportunity to start from scratch with your online course. I loved how you really broke down the moves and focused equally on the rhythm." —Linda L.
We teach you to embody music.
Introduction to Belly Dance is our multi-week, online course for absolute beginners in the basic technique, rhythm, and choreographic principles of belly dance—called raqs sharqi in Arabic, oryantal in Turkish. 
We've modeled this virtual dance course on our live-drumming, in-person workshops. The interactive video lessons along with the Course Guide and Sample Lesson Plans makes the course ideal for teens, adults, and seniors of any gender who have a moderate fitness level with little to no dance or music background—just an eagerness learn!
Belly dance right from your first lesson.

Progress at the perfect pace.

Get personal help with your lessons.

Connect with other students.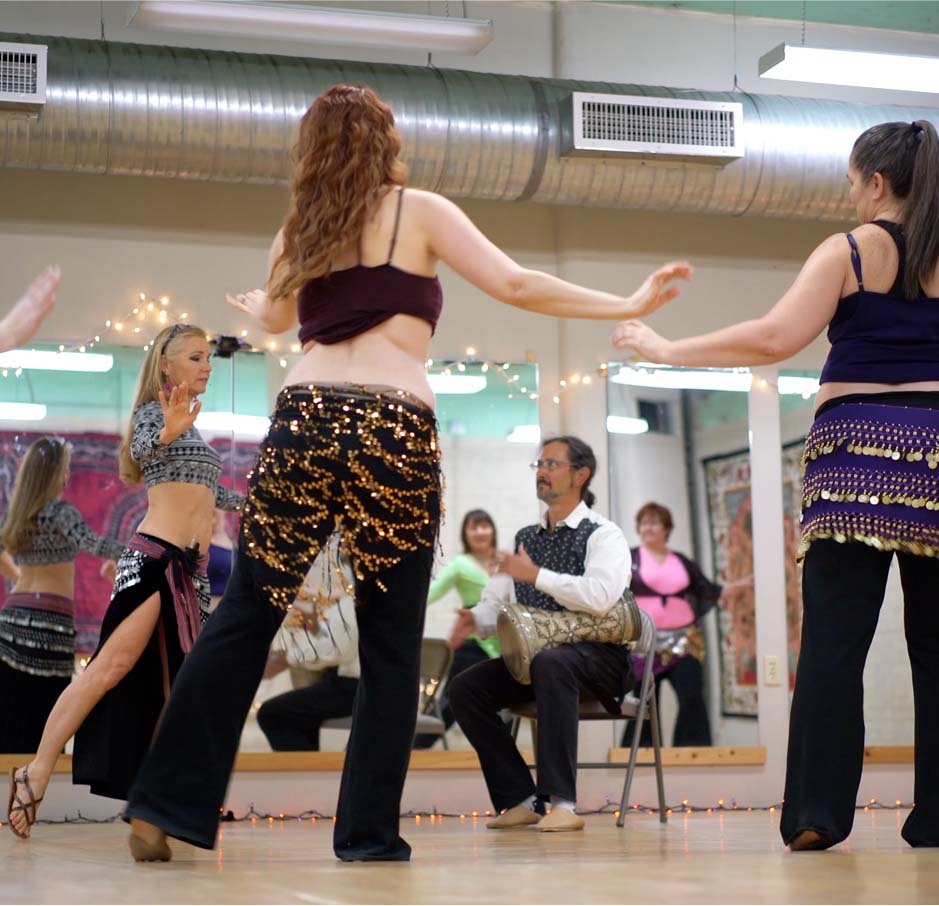 "Great video! Because it really starts from the very first beginner level like me! I love the way you explain it with passion and with grace! Well done also Bob for your drums!" 
 —Petra G.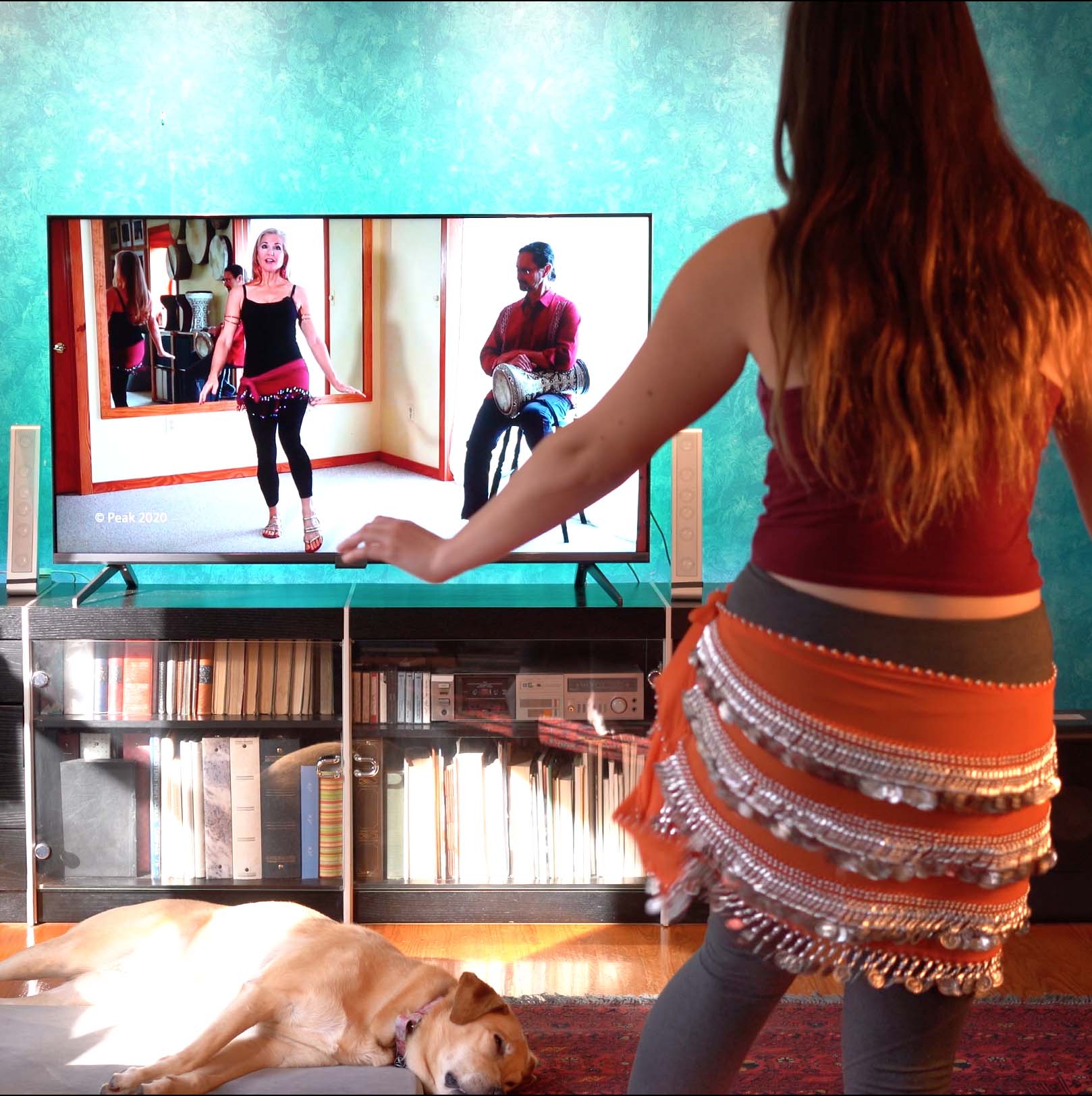 You'll learn to belly dance traditionally.
With Bob's live DRUMMING accompanying each of Jensuya's lessons and practice session, you'll learn how to:
Identify the beat and the rhythm
Move with the beat
Embody the classic belly dance rhythm Beledi
Master the fundamental belly dance step and 3 variations
Dance 2 classic belly dance moves and 2 variations
Acquire belly dance isolation technique
Choreograph steps & moves
Speak key Arabic & Turkish words
Develop a personal practice schedule
"It opened my eyes to how I can take a dance and do it to any kind of music. And it was because of doing it with just the drummer and following him. The drummer challenges us. You feel that energy." 
—Pam B.
It's easy to begin with our Course Guide.
We give you suggestions, tips, and guidelines for setting up and getting the most from the course.
Setting your dance space
What to wear for your lessons
How to customize your lesson schedule
Super tips for class success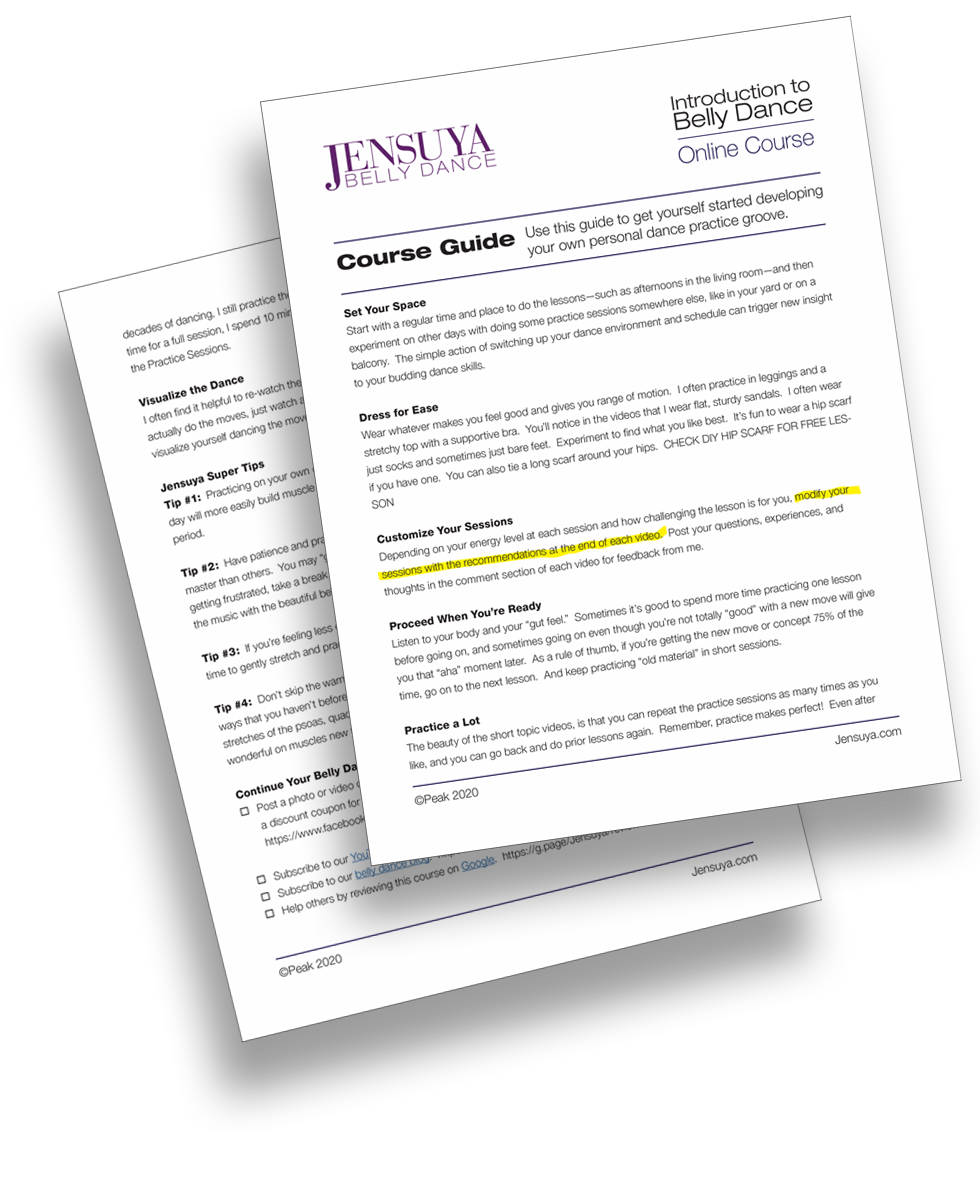 "Jensuya is an amazing teacher. She is a gifted dancer AND teacher. She knows how to teach beginners through advanced. She makes you feel comfortable right away. Also, her husband is her drummer! The pair make a great combo—it is SO RARE to have live drumming as you dance. A consummate professional." —Tracey F.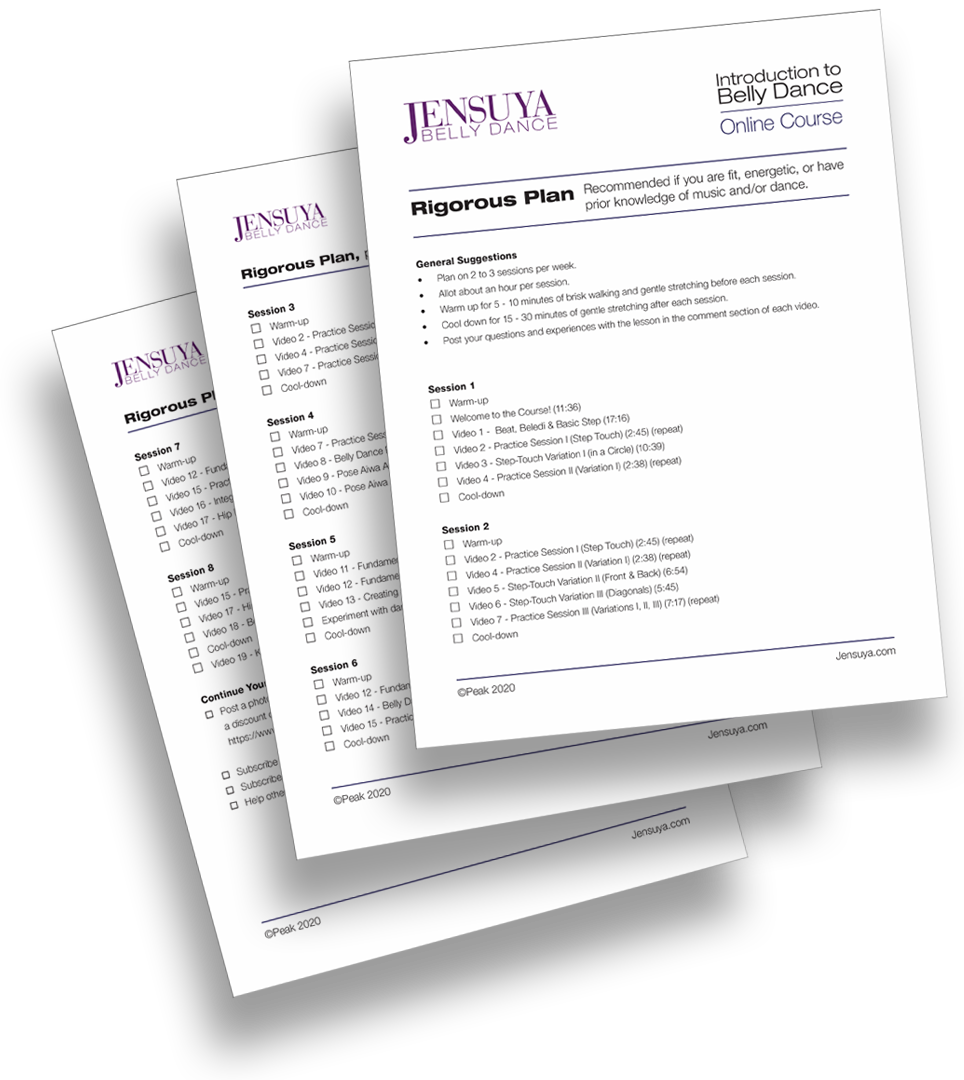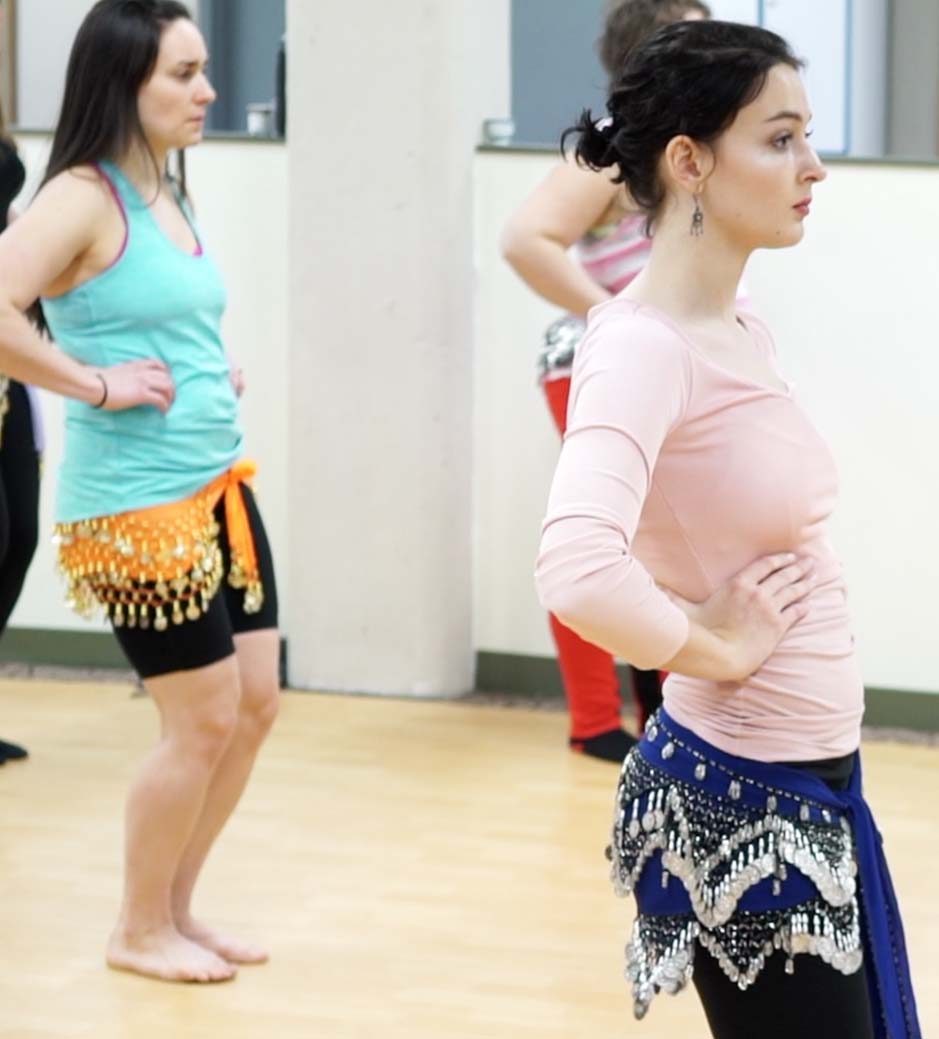 Follow the Rigorous Plan to learn in 8 sessions.


"I can tell by the video that you are an outstanding teacher. The passion you have for your art and your willingness to share it with other is abundantly clear. Your dancing is beautiful."—Anne P.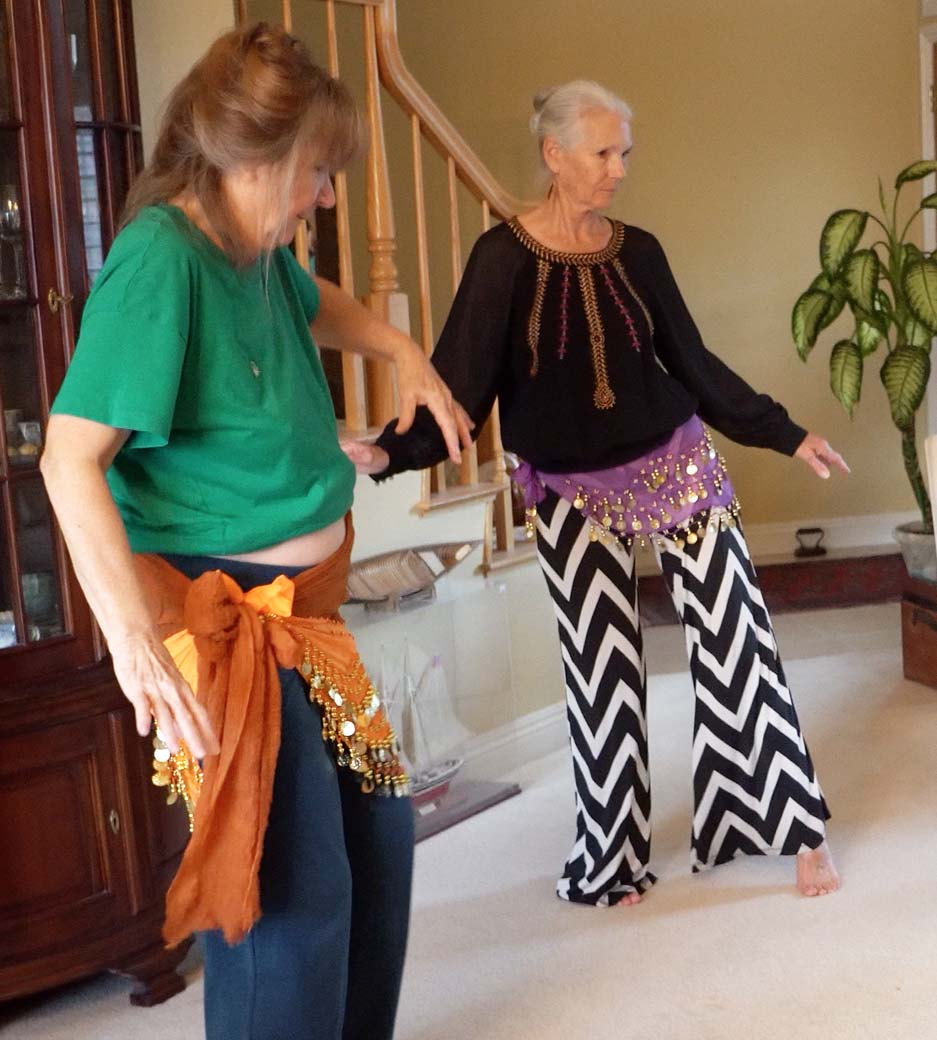 Follow the Gentle Plan to learn in 12 sessions.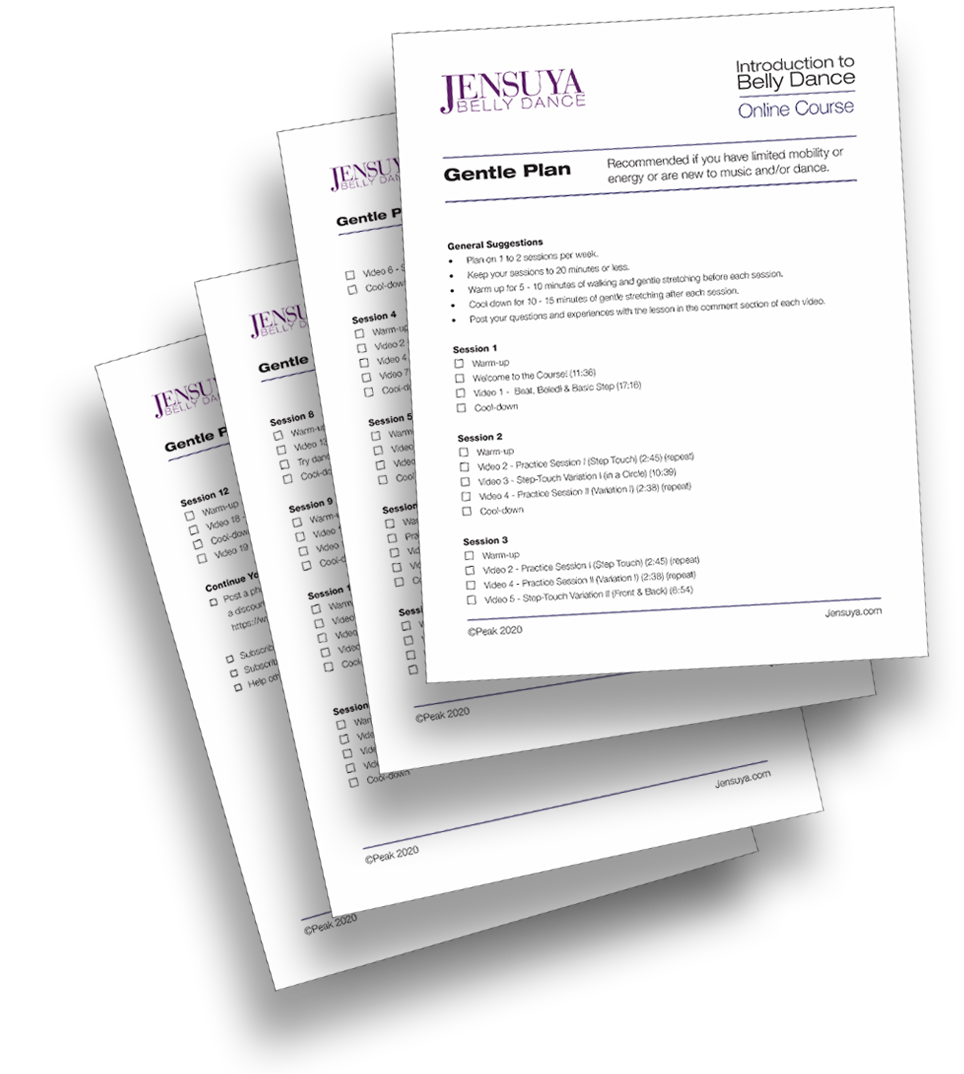 "Sooo much fun! Love this! So glad that I have begun my journey with you!"—Donna C.
Our unique format of separate videos for the technique lessons and practice sessions lets you progress at exactly the perfect rate.
Technique lesson videos
Practice session videos
Directions at the end of each video suggest how to modify your next session depending on how challenging the lesson was.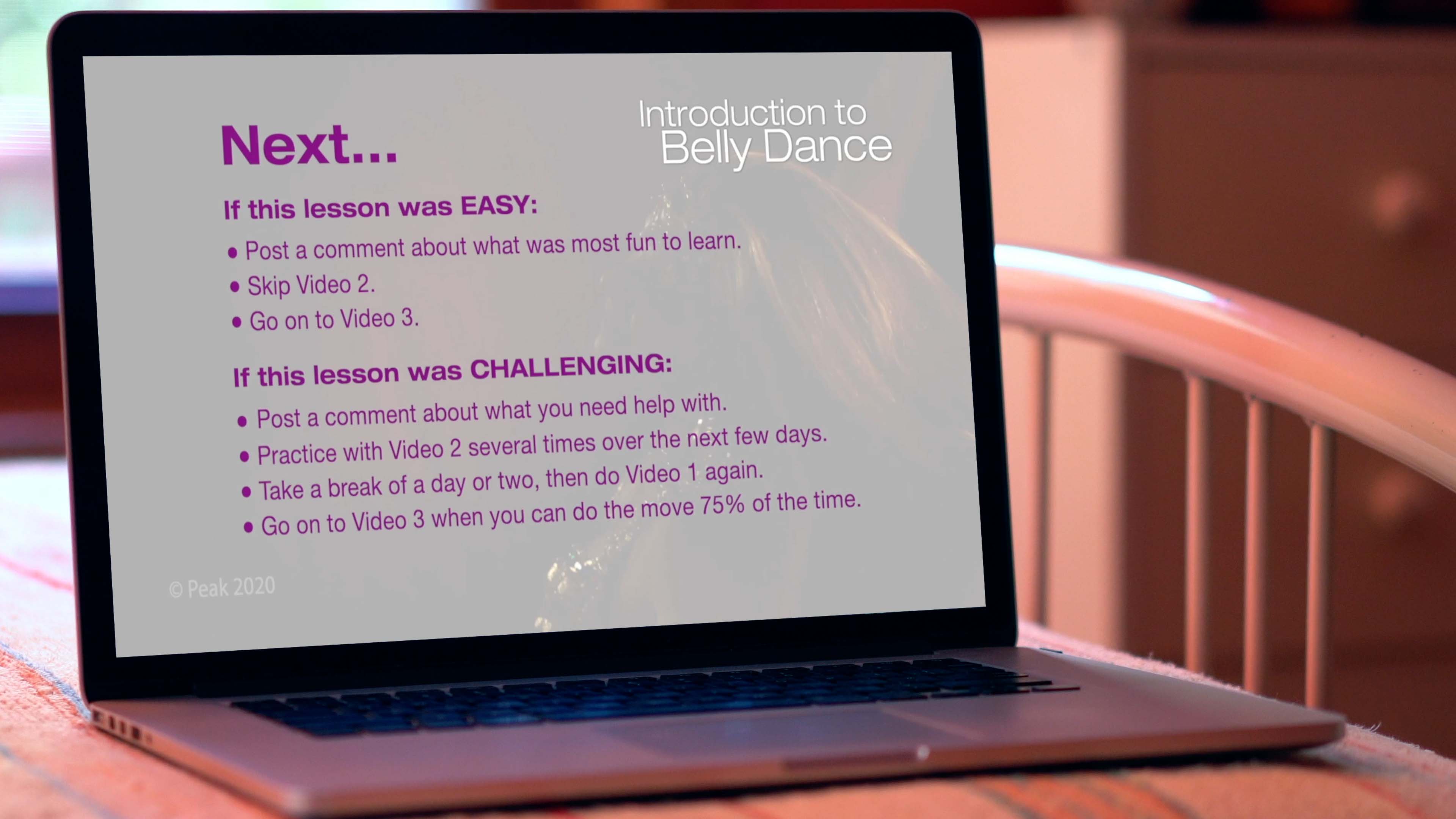 "I love taking it back to the basics and how you describe everything in such detail! Thank you so much for including musical instruction and language culture. This is one of the best lessons I've ever had!"—Lena L.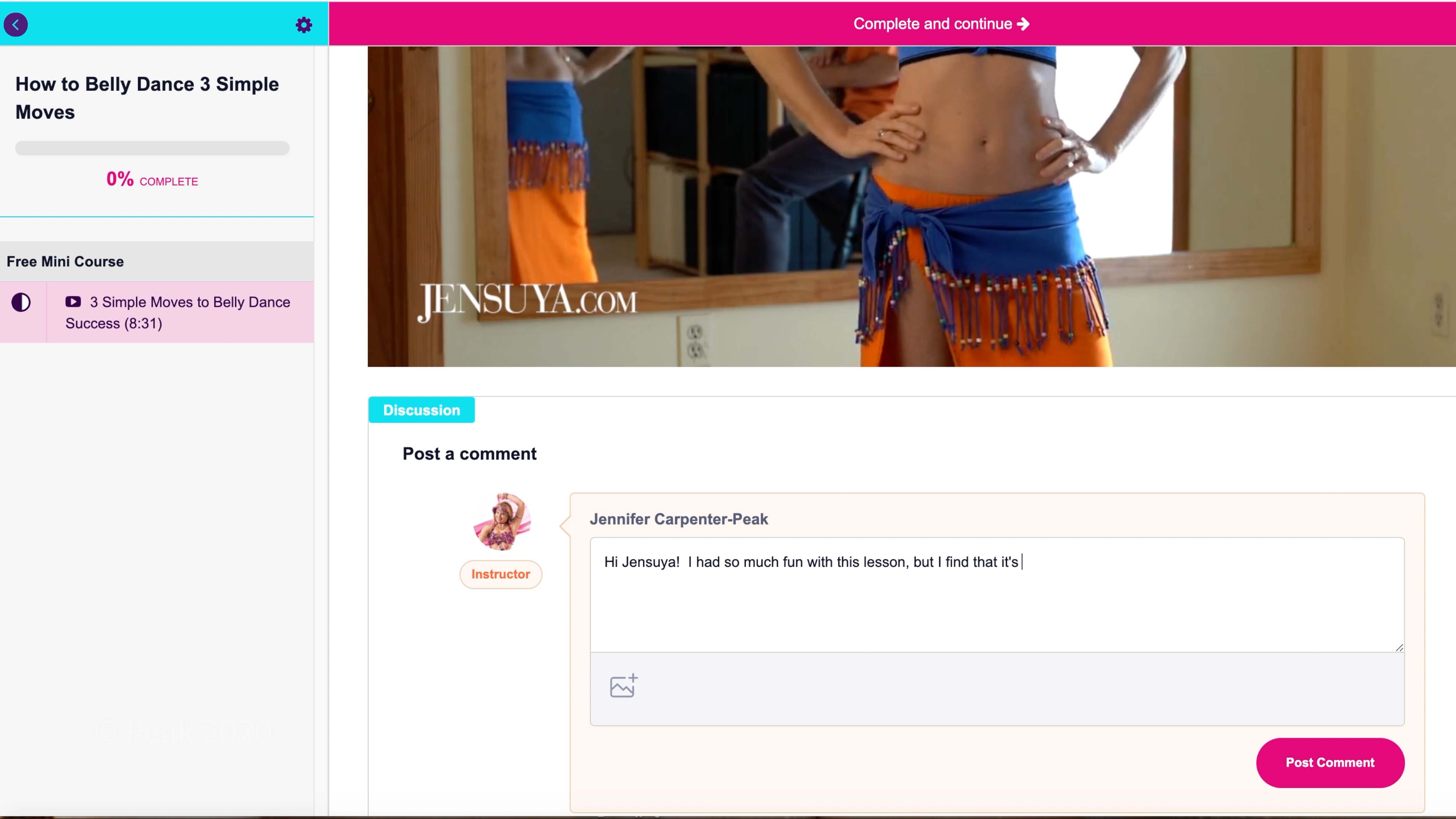 Whether you're at home or somewhere else, we're together virtually!
Ask us questions and share your experiences with other students in the comments section of each video. We can't wait to see your progress and help you on your belly dance journey.
"I really appreciate your detailed, kind and encouraging messages! I am really happy with this course!"—Petra G.
Practice with us at your convenience.
You choose your device, your place, your time. Do the course in an intense weekend or over a couple of months, and enjoy lifetime access.
Smart TV
Computer
Tablet
Smart phone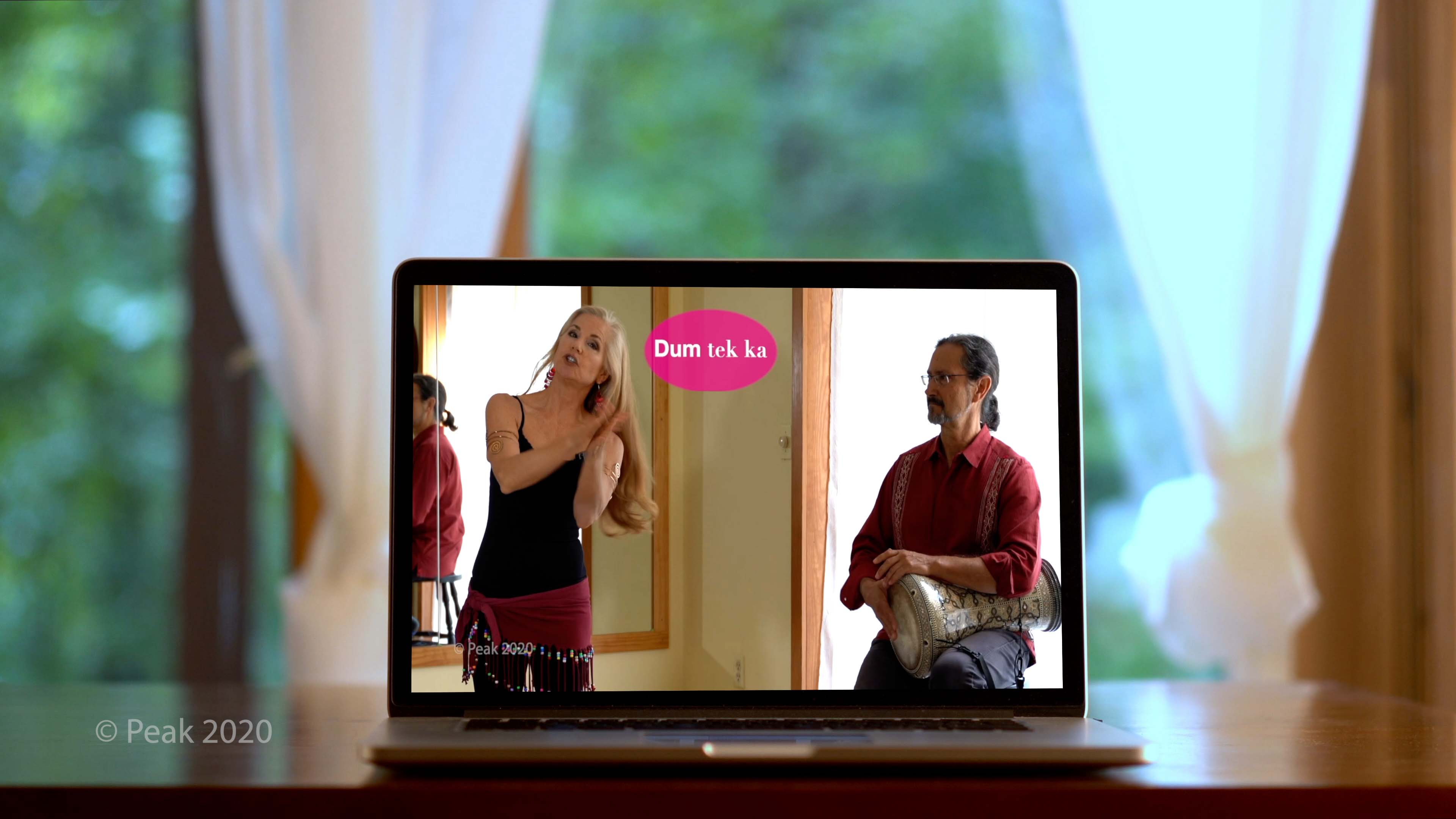 "Belly dance is the physical expression of the music. And through this dance, we can find empowerment. We can find our identity. And we can find joy."
 —Jensuya
Curriculum
Introduction to Belly Dance
PayPal Option:
From your PayPal account, click "Send Money" to [email protected], enter $59 USD for Lifetime Access or $49 USD to rent, and enter "Intro to Belly Dance" in the "add a note" field.
Click "Continue" and click "sending to a friend" (to help keep costs down).
Watch your email for your personal Course Access Coupon Code. Then...
Click the "Enroll Now" button (above) and enter your Course Access Coupon Code in the pink box that says, "Add Coupon Code.


Welcome to Jensuya Belly Dance!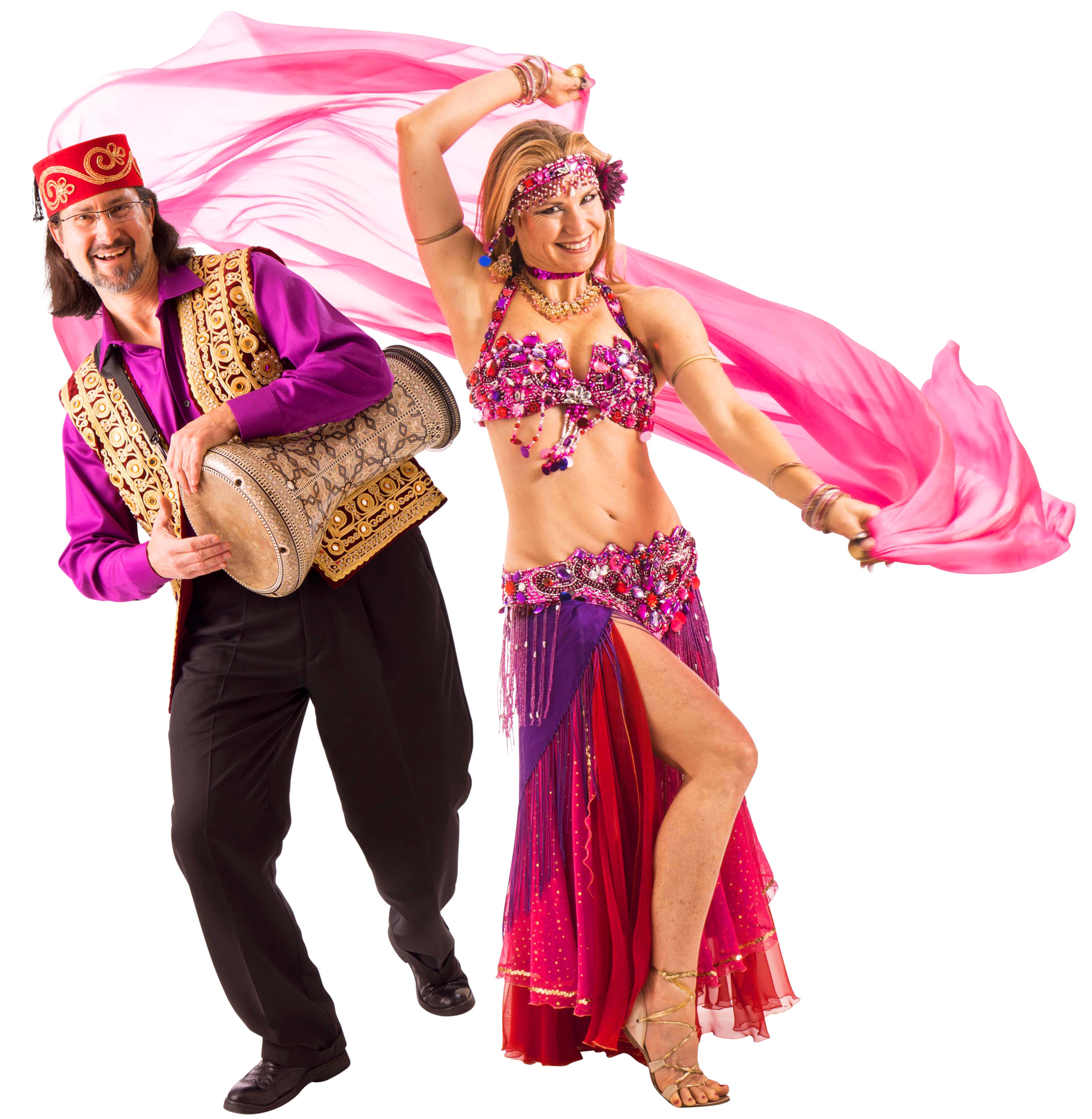 Dance. Understand. Rejoice.
Merhaba!
I'm belly dancer/engineer Jensuya—aka Jennifer Carpenter-Peak—and along with my Significant Drummer—aka my husband, Robert Peak—we perform live music and belly dance shows, teach belly dance workshops and online courses, conduct in-person and online Middle Eastern arts education programs in schools and colleges, and produce two YouTube channels and blog—all about Mid East music, dance, and culture.
Hailing from Berkeley Springs, West Virginia, we have been featured by the American-Arab Anti-Discrimination Committee, the American Turkish Association, and twice by the U.S. Government-funded Middle East Broadcasting Networks, an Arabic-language news organization with a weekly audience of more than 25.7 million people in 22 countries in the Middle East and North Africa. If there were only one thing that I could teach you, show you, inspire you to do, it would be this—embrace your fear, then dance with it. Let's get started!
Check your inbox to confirm your subscription